It has been awhile since I blogged. Well quite a bit has happened in 3 months --
Lets rewind a bit .............
Sept 12th - my eggs were finally mature enough to take my ovidrel injection (releases my eggs). Little did I know that with us working different shifts that this would be the day that our life would be forever changed.
September 25th - beta came back POSITIVE!
October 12th - first u/s of the baby. Just the sac and gestational sac was seen and start of the yolk sac. It was such an amazing site regardless of how tiny our baby was. Measuring 5 days behind schedule --Should have known something was wrong at that point. But here was our first u/s photo.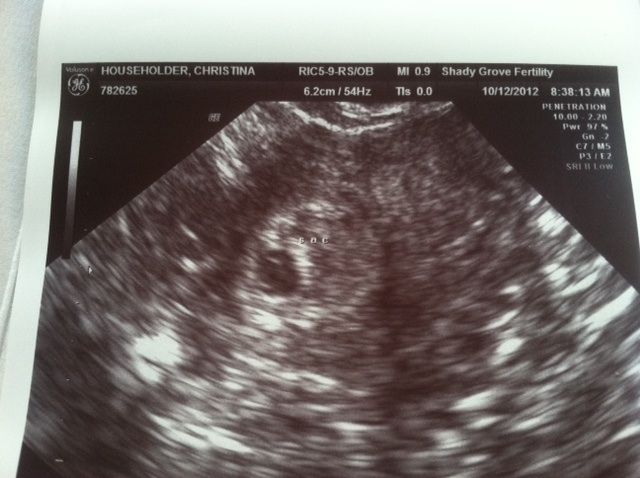 Our 2nd u/s was 10-14-12 because I was having cramping and spotting. This was a
Sunday and we drove 2.5hrs to our fertility clinic and they said the baby was fine. No blood was seen surrounding the baby.. We didn't get a picture that day.
Our 3rd ultrasound was 10-18-12. The best day ever! The baby had grown so much. It is starting to look like a baby. The most amazing thing was we saw the flutter of its heart! It melted my heart. I was so in love at this point. I will never forget the joy we both felt. I couldn't stop staring at our ultrasound the whole way home. We had waited so long for this and it's finally here!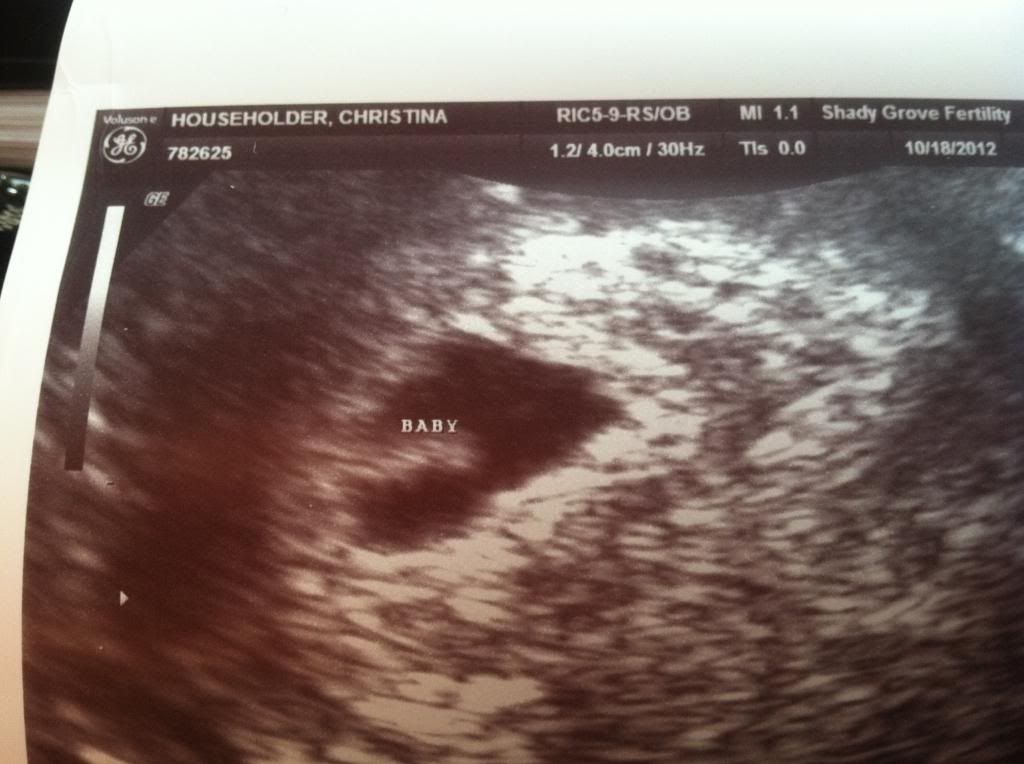 The next couple weeks are a blur. I had spotting and bad cramping for the next week. We had to have another ultrasound on the 26th of October. Little did I know that would be the day my world was shattered. We went in to our "graduation" ultrasound with the fertility clinic. This is the final ultrasound they do before you start seeing your obgyn. At this point I thought we were in the clear. However, as soon as the tech started I knew something was not right. The baby was barely there. It was so hard to see. She said they were having a hard time measuring and they wanted to scan my ovaries and go back to the baby. It took much longer then the other ultrasounds. My heart was breaking. I could see it in my husbands eyes that he to knew something was not right. The dr said well maybe it is to early and we cant see the heart beat yet. I sat there for a moment and said "we saw it last week" suddenly i knew for certain our baby wouldn't be in our arms in june.
Leaving that appointment room was so difficult. I could barely hold myself up to walk out. They laid the ultrasound picture on the counter for me to take but I couldnt. The next 2.5 hour car ride home was the worst thing ever. I have never felt such heartache. My heart felt like it was pounding out of my chest. I knew I had to be strong and know that our baby is better off.
The following week we had yet another ultrasound. We knew it was not a viable pregnancy and expected the worst. The dr was very nice and comforting and told us all of our options. We opted to see my obgyn and have a d&c done closer to home.
Mommy & Daddy have a special place in our hearts for you ..